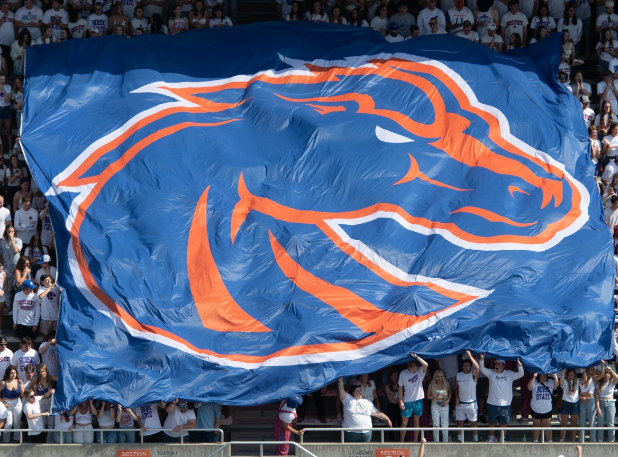 LOGAN, Utah – Boise State's second-half comeback attempt against Utah State fell short as the Broncos were defeated, 86-73, in Saturday night's Mountain West men's basketball contest at the Dee Glen Smith Spectrum.
The Aggies (24-7, 13-5 MW) shot 62.1% from the field in the first half to put the Broncos (23-8, 13-5 MW) in a hole early on. Utah State used a 22-7 run across six minutes to build the lead as large as 20, but the Broncos closed the half scoring the final six points to reduce the halftime deficit, 47-33.
Boise State chipped away at the lead throughout the second half, getting as close as six points when Marcus Shaver, Jr. made a contested layup with 2:13 showing on the clock. The Aggies knocked down a 3-pointer on the ensuing possession and made their free throws down the stretch to close out the game.
Top Broncos
Chibuzo Agbo led the Broncos in scoring with 18 points while adding four rebounds and a steal.
Marcus Shaver, Jr. scored all 13 of his points in the second half to go along with seven rebounds and five assists.
Tyson Degenhart posted 14 points and six boards.
Notables
Tyson Degenhart had his 15th game with 10 points and five rebounds this year.
Chibuzo Agbo had at least four 3-pointers for the seventh time this season.
Up Next
With the regular-season slate now complete the Broncos will travel to Las Vegas, Nev., for the 2023 Mountain West Men's Basketball Championship. Boise State is the No. 2 seed in the conference tournament, and will open play on Thursday, March 9, at 7 p.m. MT against the winner of UNLV and Air Force.