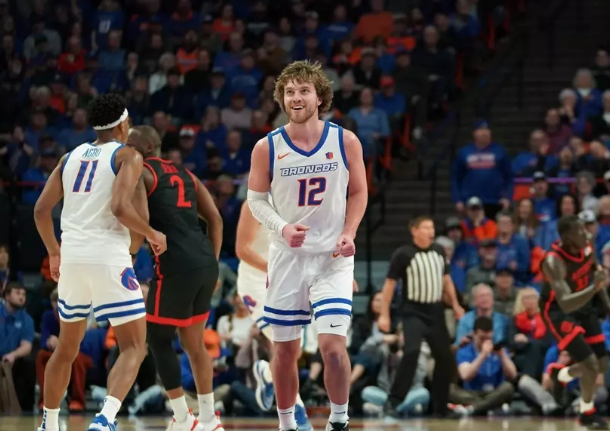 BOISE, Idaho – A 12-0 solo-run from Max Rice in the final five minutes of the game powered an upset victory for Boise State men's basketball as the Broncos knocked off No. 18/19 San Diego State, 66-60, Tuesday night in front of a sold-out ExtraMile Arena. It marked the highest-ranked win at home for Boise State since a win over 15th-ranked Washington in 1998.
The Aztecs (23-6, 14-3 MW) led by eight with 4:42 when Rice drew a foul and earned a pair of free throws. After making the first attempt, the second bounced off the rim and was collected by Naje Smith, who kicked it back out to Rice for a 3-pointer. Less than a minute later Rice made yet another second-chance three, and followed it up with a third-straight bucket from deep on the following possession, giving the Broncos (23-7, 13-4 MW) the lead and forcing a San Diego State timeout with 2:42 left.
Rice converted a fastbreak-layup to cap his run, while good team defense and a pair of free throws from Marcus Shaver, Jr. closed out the home-finale win. Rice scored 16 of his 26 points in the second half to lead the Broncos.
Top Broncos
Max Rice finished with a game-high 26 points – 16 coming in the second half – with five made threes in the game.
Tyson Degenhart finished with 14 points on 6-9 shooting from the floor.
Marcus Shaver, Jr. had nine points with a team-high seven rebounds.
Naje Smith scored 10 points with six rebounds.
Lukas Milner had a pair of blocks in his fourth career start.
Jace Whiting had four rebounds and three assists.
Notables
Tuesday's victory over 18th-ranked San Diego State was Boise State's first over a ranked team since Dec. 12, 2015, when the Broncos beat No. 24 Oregon.
The win is the second-highest over a ranked opponent at ExtraMile Arena, and highest since a 69-61 victory over 15th-ranked Washington in 1998.
It is the first time Boise State has gone undefeated at home in conference play since 1998.
The Broncos have won 14-straight home games.
Seventeen of the 29 meetings against San Diego State have been decided by single digits.
The Broncos have claimed victory in four out of the last five meetings against the Aztecs.
Boise State improved to 6-1 all-time when Rice scores 20+ points.
Tuesday's win was only the third time in the Leon Rice era that Boise State has out-rebounded San Diego State +10 – the last was a 58-62 defeat on Feb. 27, 2021.
Boise State welcomed a season-high 12,208 fans to ExtraMile Arena. That's the seventh-largest crowd for a home game in program history, and only the second time the Broncos have had three games at home with at least 12,000 fans. The last was 1987-88.
The Broncos had 17 second-chance points.
Boise State did not commit a second-half foul until 6:16 remained in the game.
Up Next
Boise State closes out the regular season with a trip to Logan, Utah, to take on Utah State, Saturday (March 4). The Broncos and Aggies tip off at 7 p.m. MT, with streaming available on the Mountain West Network.