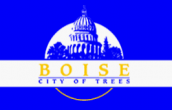 A Boise City Council strategic planning session was held Tuesday morning, discussing police and fire departments, Boise Public Library and Zoo Boise.
Boise Police wants to increase resources to traffic safety efforts and add a new unit to address human trafficking, gang violence and retail theft.
A new station and downtown destination for the public and officers to interact was proposed as well, and BPD is requesting an increase of 129 officers.
CBS 2 reports, Boise Fire Department similarly requested additional resources including 102 additional sworn members and 19 additional civilian employees.
Zoo Boise proposed $18 million to be spent on construction upgrading outdated exhibits, a new red panda exhibit and an education complex.
You can watch the full meeting at the City of Boise Public Meetings YouTube channel.