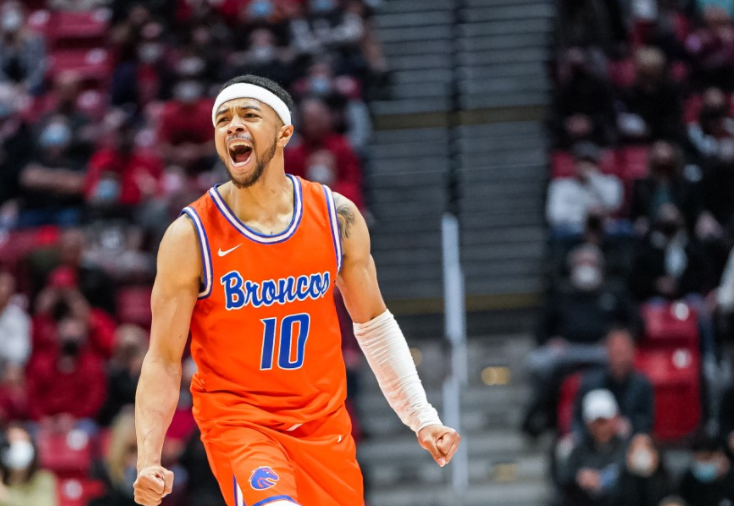 Boise State men's basketball closes out its 2022-23 home slate on Tuesday, Feb. 28, against No. 18/19 San Diego State. Tipoff is at 7 p.m. on CBS Sports Network. The Broncos are seeking their first unbeaten conference season at home since 1997-98.
SERIES HISTORY: Boise State leads the all-time series at home against the Aztecs, 6-4, and has won three-of-the-last four meetings between the two schools at ExtraMile Arena.
400 CLUB: The Broncos are led in scoring by Tyson Degenhart (416) and Max Rice (402) as both crossed the 400-point threshold this season. It is the fourth time Boise State has had multiple 400-point scorers in the same season over the previous five seasons.
HOME COURT ADVANTAGE: Boise State has been elite when playing at home this season, winning 13-straight at ExtraMile Arena. The Broncos are holding opponents to just 60.7 points per game and outscoring them by an average of 15.3 points when playing at home. Boise State has conceded over 70 points just once in 14 games at home during the 2022-23 campaign.
RESUME BUILDERS:Boise State has gone 9-5 in games in the first two quadrants of the NET – tied for the best record among Mountain West schools. Over the final week of the season, the Broncos will play two Quad 1 games against San Diego State (Feb. 28) and at Utah State (March 4). Boise State has won 10 games against teams in the top 100 of KenPom by an average of 13.9 points per game.