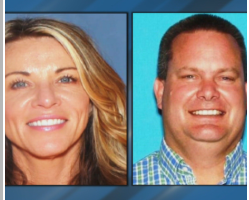 A judge will issue a written decision on whether Chad and Lori Daybell's trial will be severed, and the couple's mental health will not be used as they try to convince a jury of their innocence.
These issues were discussed during a pretrial hearing Thursday at the Fremont County Courthouse.
The couple is charged with multiple counts of first-degree murder and conspiracy to commit murder for the deaths of 7-year-old Joshua "JJ" Vallow and 16-year-old Tylee Ryan – two of Lori's children – along with Chad's previous wife, Tammy Daybell.
Their trial is scheduled to begin April 3 in Ada County.
The next hearing scheduled in the case is on March 9 in Fremont County.