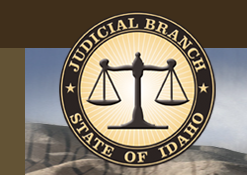 Idaho judges, their spouses and children, and employees of the courts have been targeted with harassment and threats, the Idaho Supreme Court said in a statement Wednesday afternoon.
The statement suggested that the attacks are meant to undermine the independence of the judicial branch and to interfere with Idahoans' constitutional rights. However, the statement did not say whether the attacks seem to be related to specific cases or court rulings.
The Idaho Capital Sun reports, Chief Justice G. Richard Bevan says a line has been crossed.
There has been a growing number of incidents in which extremists targeted judges.
The Idaho Supreme Court's statement this week said the recent "cruel or threatening actions" are not justified under the First Amendment as freedom of speech.