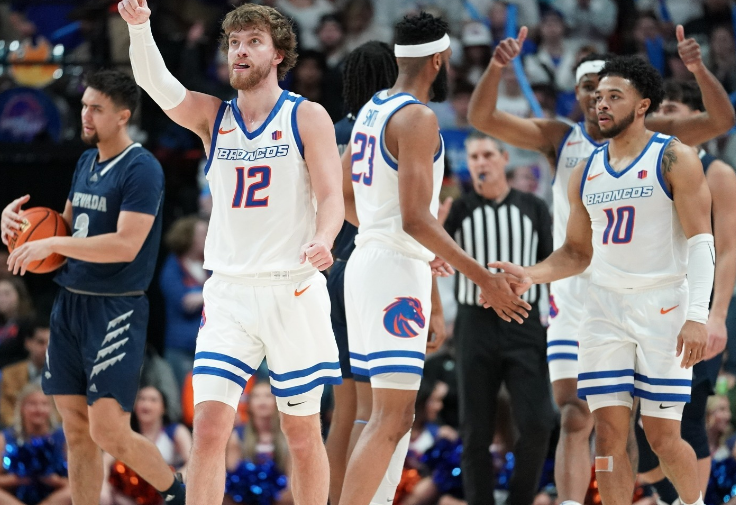 Courtesy: Boise State University
BOISE, Idaho – A career-high 29 points from Max Rice powered Boise State men's basketball to a 77-62 over Nevada, positioning itself atop the Mountain West standings Tuesday night at ExtraMile Arena.
The Broncos (15-4, 5-1 MW) opened the game shooting 4-of-5 from three-point range, scoring 12 of their first 14 points from behind the arc and holding a one-point lead over the Wolf Pack (15-5, 5-2 MW) at the second media timeout. Max Rice scored Boise State's first six points and finished the half with 21 on a scorching 5-of-6 shooting from beyond the arc, lifting his team to a 42-36 lead as the teams broke for halftime.
After Nevada scored six of the first eight points out of the locker room, the Broncos took control by rattling off a 17-2 scoring run – thanks to 13 combined from Rice and Tyson Degenhart – opening up a 61-44 lead with 10 minutes to play. Boise State held the Wolf Pack scoreless for over four minutes during the run, forcing misses on seven-straight attempts from the field. Nevada never came closer than 11 the remainder of the way, making just two of its final eight attempts as the Broncos locked down the victory.
Top Broncos
Max Rice poured in a career-high 29 points, 21 of which came in the first half. Rice shot 10-14 from the field and a blistering 6-7 from downtown.
Naje Smith posted 12 points and eight rebounds on the night.
Tyson Degenhart scored 15 points and grabbed six boards, his fourth time in the last five games tallying at least 13 points and six rebounds.
Chibuzo Agbo scored 10 points, his 10th-straight game scoring in double figures.
Quotables
"We beat a very good team tonight," said head coach Leon Rice. "I'm proud of our guys. This league is a grind and we came with it tonight. We had great intensity for 40 minutes and beat a very good team."
"My teammates did a good job of finding me after I'd hit a couple and I just started stringing them together," said Max Rice. "Once you hit a couple I think the basket is a lot bigger for you, so credit to my teammates for finding me. It was a huge win for us."
"We didn't start conference play the way we wanted to against Nevada, but we clawed our way back and now we're tied for first," said Tyson Degenhart. "We just have to keep improving day by day so we can hold up that trophy at the end of the season."
Notables
Boise State finished the first half with 42 points, the fourth time in the last five games the Broncos have scored 40+ in the opening 20 minutes.
Max Rice's 21 first-half points mark the seventh time the guard has scored in double figures in the first half this season.
Max Rice is the first Bronco to make six threes while shooting at least 85% from behind the arc since Justinian Jessup went 6-for-7 against CSUN (Dec. 28, 2019).
Up Next
Boise State is back on the road for a late-night contest against New Mexico, Friday (Jan. 20) at The Pit. The Broncos and Lobos square off at 9 p.m. MT with broadcast coverage available on FoxSports 1.