Courtesy CBS 2 News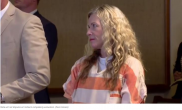 New records released from Jan. 5, 2023, in the Vallow Daybell case state that Lori Vallow Daybell had an alibi at the time of the murders.
Lori Vallow is suspected in the 2019 deaths of her two kids Tylee Ryan and J.J. Vallow as well as the death of her husband Chad Daybell's former wife Tammy.
Court documents from January 5, 2023 state that Loir Vallow had an alibi for both the death of her two kids and also for the death of Tammy Daybell.
She claims that she was in her Rexburg, Idaho apartment with Melanie Gibb, David Warwick, and/ or Chad Daybell when Tylee Ryan and J.J. Vallow died in Alex Cox's Rexburg, Idaho apartment.
Lori also claims that when Tammy Daybell died at her Salem, Idaho home she was in Hawaii with Melani Boudreaux and or Audrey Barattiero.
Lori Vallow Daybell and Chad Daybell both have hearings scheduled for January 19, 2023, to look at this and other motions including a motion that states that Vallow is not eligible for the death penalty. The motion states that Vallow does not meet the requisite culpability to be charged with the death penalty stating that Lori was not a participant or conspirator in the deaths of Tylee, J.J., or Tammy. and there is nothing that showed that she showed reckless disregard for human life.