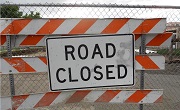 Idaho Highway 55 is currently closed north of Smiths Ferry due to an overnight rockslide.
A spokesperson says the highway will remain closed in both directions at least through Monday afternoon .
The Idaho Transportation Department says they appreciate the continued patience of the public and will work to reopen the highway as soon as possible. They also say the road will remain closed as crews assess if the highway is safe.
Drivers are asked to use U.S. Highway 95 as an alternate route.