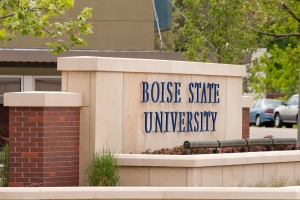 From: Boise State Communications
INSTITUTE NEWS RELEASE / September 11, 2019
ANNUAL FRANK CHURCH CONFERENCE WILL EXPLORE DEMOCRACY IN THE AGE OF ANXIETY
On Oct. 14, Boise State University's Frank Church Institute will host its 36th annual Frank Church Conference on Public Affairs with the theme of "Democracy in an Age of Anxiety: Russian Intrusion, Chinese Confrontation, Populist Disruption." The conference will be held from 8:30 a.m.-3 p.m. in the Student Union Building's Simplot Ballroom.
The conference is free and open to everyone.
Former U.S. Ambassador to Russia Michael McFaul will deliver the conference keynote speech at 7 p.m. Oct. 14 in the Student Union Building's Jordan Ballroom. McFaul is the Ken Olivier and Angela Nomellini Professor of International Studies in Political Science, the director and senior fellow at the Freeman Spogli Institute for International Studies, and the Peter and Helen Bing Senior Fellow at the Hoover Institution, all at Stanford University. For more about McFaul, visit: https://michaelmcfaul.com/about.
Conference speakers include Rob Berschinski, vice president of Human Rights First; James Kirchick, a visiting fellow with the Brookings Institution; and Irene Poetranto, a senior researcher at the University of Toronto. Other speakers include Boise State University President Marlene Tromp; Boise Mayor David Bieter; and Steven Feldstein, the Frank and Bethine Church Chair of Public Affairs at Boise State.
For more information about the conference, please visit: https://sps.boisestate.edu/frankchurchinstitute/
The Frank Church Institute was established in 1982 as the Frank Church Chair of Public Affairs at Boise State to honor the achievements and to carry forward the principles of one of Idaho's most distinguished native sons, U.S. Sen. Frank Church. The Institute, which is housed within the School of Public Service at Boise State, emphasizes to its students those ideas which the senator held dear – a strong belief in the rule of law, eloquence firmly based on reason and an unwavering faith in the American political system.
The Frank Church Institute's mission is to promote civic engagement and understanding of public policy with focus on foreign relations. The institute is non-partisan. It seeks to provide a forum for open and informed discussion characterized by civility, tolerance and compromise. The institute fulfills its mission through the sponsorship of the annual Frank Church Conference, the Frank and Bethine Church Chair of Public Affairs, and the Frank Church Scholarships at Boise State.
About Boise State University
A public metropolitan research university with nearly 28,000 students, Boise State is proud to be powered by creativity and innovation. Located in Idaho's capital city, the university has a growing research agenda and plays a crucial role in the region's knowledge economy and famed quality of life. Learn more at www.BoiseState.edu.
—
Office of Communications and Marketing
Boise State University
1910 University Drive
Boise, ID 83725-1055
(208) 426-1577