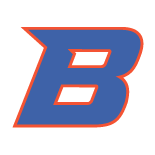 Boise State Athletics is launching BroncoBOLD, an initiative designed to encompass and showcase all aspects of the department's mental health programming for student-athletes, coaches and staff.
Throughout the week, Boise State Athletics will unveil videos on social media that will also be posted at BroncoSports.com and information for on- and off-campus resources relating to mental health.
Bronco student-athletes and coaches will wear helmet stickers, hair ribbons and patches throughout this weekend's competitions in support of the BroncoBOLD initiative.