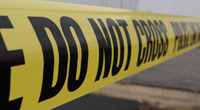 The body of a deceased, adult male is no longer in the irrigation ditch where Middleton Police say it was found around 11am Sunday next to 606 West Main Street in Caldwell.
According to police, the body is that of an adult male in his 40s. They added that they do have an identity, but that they aren't releasing it at this time.
Middleton Police told CBS 2 News that they're trying to figure out why the man was in the area and what happened.
Idaho State Police are also assisting in the investigation.
This is an ongoing investigation. We will update this story with more information as it becomes available.