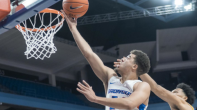 Boise State used every bit of its experience and bench to defeat Air Force, 59-52, Tuesday night at Clune Arena. The Broncos (18-5, 8-2 MW) held the Falcons to one made field goal over the final three minutes, including four-straight misses to end the game.
Air Force (12-11, 3-7 MW) cut Boise State's lead to one point at 49-48 with 6:01 to go. Over the final six minutes, the grit of the Broncos (18-5, 8-2 MW) was on full display to close out the seven-point victory.
Marcus Shaver, Jr., drove to the basket and drew a hard foul to get sent to the line. He made one of his free throws and was forced to foul Air Force on the ensuing rebound. Jeffrey Mills missed the free throw in the bonus, and Chibuzo Agbo connected on a turnaround jumper on the other end to extend the lead.
Rytis Petraitis scored to cut the Bronco lead to two, but Pavle Kuzmanovic responded with a massive 3-pointer, and Rice made a pair of clutch free throws for a 57-50 lead with 46 seconds remaining. An insurance dunk from Agbo cancelled out a pair of Air Force free throws as Boise State held on for the win.
Top Broncos
Max Rice led Boise State with his fourth 20-point game of the season and ended the night with 22 points and seven rebounds.
Marcus Shaver, Jr., scored 12 points with five rebounds.
Tyson Degenhart scored seven points in the second half.
Notables
Max Rice finished the first half with 16 points, his seventh time in the last nine games reaching double figures in the first half.
Boise State picked up its third conference road win this season, extending its streak of winning at least three Mountain West road victories every season in the conference.
The Broncos scored 17 points off turnovers.
Boise State has held 12 opponents to under 60 points this season.
Up Next
Boise State heads west for a battle between the top-two teams in the Mountain West as they take on San Diego State, Friday (Feb. 3). Tipoff from Viejas Arena will be at 7 p.m. MT, and the game will be nationally televised on FS1.