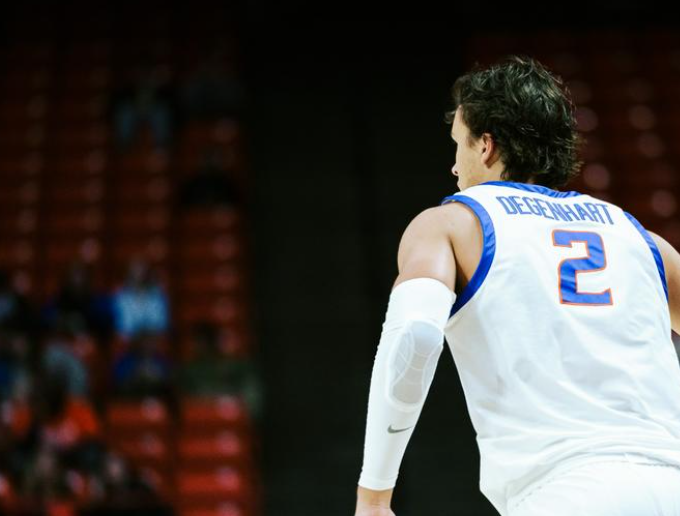 Boise State's offense was firing on all cylinders to defeat Colorado State by 21 points in front of a sold-out crowd of 12,021 at ExtraMile Arena.
The Broncos (17-5, 7-2 MW) shot 59% from the field and led by double digits for 26-minutes and 37 seconds to win its fifth conference game by at least 15 points. Tyson Degenhart and Chibuzo Agbo scored 21 and 17 points, respectively, as Boise State surpassed the 80-point threshold for the eighth time this season.
A 19-1 run from the Broncos in the first half, powered by 70% shooting from the field, gave the team a 44-29 lead at halftime. Colorado State (10-12, 2-7 MW) used a 9-0 run in the second half to cut Boise State's lead to six points with 14:57 remaining in the game. Back-to-back-to-back baskets from Naje Smith, Max Rice and Degenhart extended the Bronco lead, and from there the home team would not be stopped.
Top Broncos
· Tyson Degenhart shot 10-of-11 from the field to score a team-high 22 points with four rebounds and three assists.
· Chibuzo Agbo was 4-of-9 from three to score 17 points, and had team highs in rebounds (six) and assists (7).
· Marcus Shaver, Jr. scored all eight of his points in the second half and added four rebounds and five assists.
· Naje Smith scored 16 points with four rebounds.
Quotable
· "I was so impressed with the way we prepared and the way we responded," said head coach Leon Rice. "We won that game against Fresno State, and what we don't accept in winning, we don't tolerate in losing. I saw the best practice over these two days. That's a hard team to guard and a hard team to prepare for."
Notables
· The Broncos announced a sellout crowd of 12,021 — the ninth-largest crowd for a men's game in facility history. The last time Boise State had multiple men's games with 12,000+ attendance was the 1987-88 season (three times).
· Five of Boise State's seven conference wins have come by 15+ points . . . three by 20+ points.
· The Broncos have held opponents to fewer than 60 points in 11 games this season, closing in on the 16 games they achieved the feat during last season's title run.
· Colorado State shot 4-of-22 from three (18%), the fourth time Boise State has held its opponent to under 20% from beyond the arc.
· The Broncos are 8-0 this season when scoring 80+ points.
What's Next
Boise State returns to action next week with a pair of road games at Air Force (Jan. 31) and at San Diego State (Feb. 3).