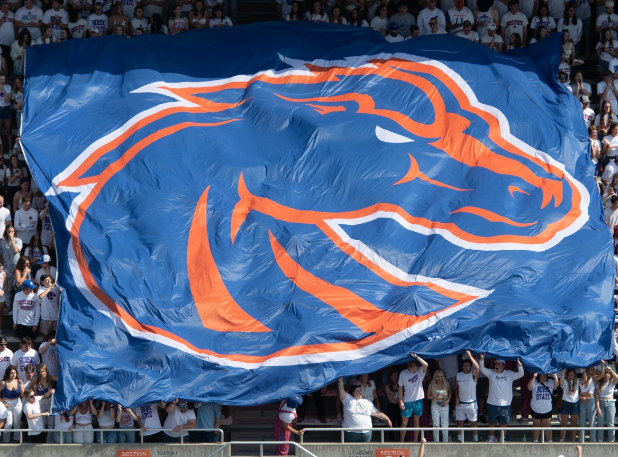 Courtesy: Boise State University
BOISE, Idaho – Eight super seniors will return to the Boise State football team for the 2023 season, it was announced Tuesday.
Offensively, five Broncos will come back for an additional year of eligibility in offensive linemen Cade Beresford and Garrett Curran, wide receivers Billy Bowens and Stefan Cobbs and tight end Riley Smith.
On the defensive side of the ball, the Broncos will retain the trio of Cortez Hogans, DJ Schramm and Demitri Washington.
Beresford came to Boise after playing three seasons at Washington State. He started all 13 games in which he appeared at right tackle in 2022, and was named to the All-MW Second Team.
Another fixture on the offensive line, Curran started 11 of the 12 games he played in at left guard.
Bowens saw action in 13 games, making 10 starts. He registered 462 yards receiving on 32 receptions, marks that ranked second among Bronco receivers, and hauled in four touchdown passes.
Cobbs appeared in a dozen games, starting 11. He tallied 396 yards receiving on 29 receptions and caught a pair of touchdown passes.
Smith played in 11 games, making 10 starts. A native of St. Augustine, Fla., he notched career highs in receptions (25) and yards receiving (214).
Hogans joined the Broncos after spending the 2021 season at Snow College and the previous three years at Northern Illinois. He saw action in seven games in 2022 and made two starts. Hogans finished the season with 18 tackles, including 3.5 for-loss, and three quarterback hurries.
Schramm was one of just three Broncos to start each of Boise State's 14 games in 2022. He led the team in solo tackles (53), total tackles (110) and tackles-for-loss (12), and earned All-MW Second Team honors.
Washington appeared in 10 games, making nine starts. He recorded 35 tackles, including 15 solo, and 5.5 tackles-for-loss, including 4.5 sacks (tied for team lead).