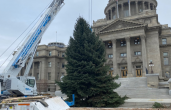 The Idaho Capitol Tree Lighting Ceremony returns Nov. 28th.
Governor Brad Little and First Lady Teresa Little invite everyone to join them on the evening of Monday, November 28, to celebrate the holiday season at the ceremonial lighting of Idaho's Capitol Christmas Tree.
The 25th Army Band will begin entertaining at 5:30 p.m. while guests enjoy complimentary cookies.
Santa Claus and his elf will also provide candy canes and bookmarks to attendees and be available for photos.
The tree lighting ceremony will begin at 6 p.m. and the lighting of the tree is expected sometime around 7 p.m.