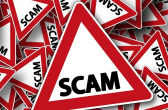 The Idaho State Tax Commission and Idaho Attorney General Lawrence Wasden are warning the public about a scam targeting taxpayers that is meant to intimidate and steal money from residents.
Taxpayers have reported receiving threatening letters from the "Tax Processing Center" or "Tax Processing Unit" claiming the state will seize the recipient's property and garnish their wages for unpaid taxes.
The Idaho Capitol Sun reports, the letters are designed to resembled official government notices and include fake filing numbers.
A representative of the Idaho Attorney General's Consumer Protection Division contacted the scam agency, but when asked for his company's name, the man hung up.