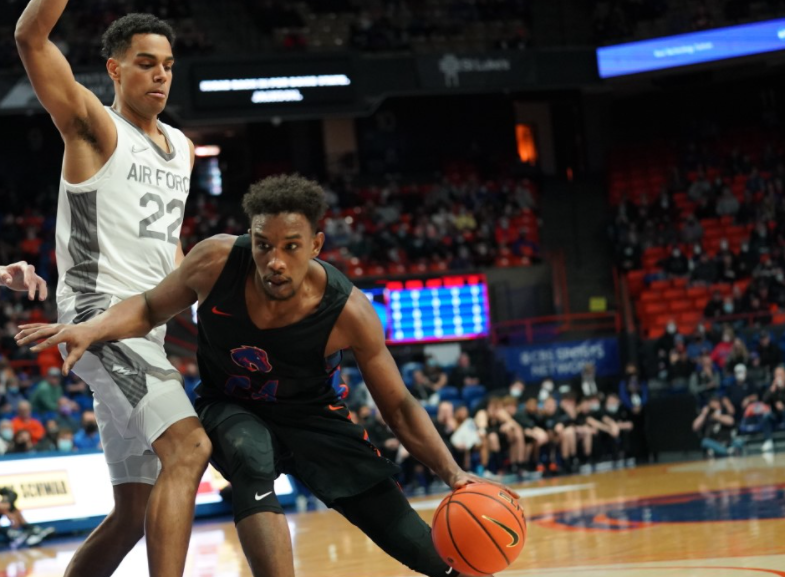 Boise State men's basketball held off a late run by Air Force Tuesday, to extend its win streak to 10 games with a 62-56 victory at ExtraMile Arena. The 10-game streak matches the second-longest win streak in program history and is tied for the third-longest active winning streak in the country.
Boise State (13-4, 4-0 MW) ran out to a 22-8 lead in the first 8:22, including nine points from Emmanuel Akot on a trio of three-pointers in the span of two minutes and five seconds.
Air Force (8-7, 1-3 MW) climbed back to within three at halftime and took a one-point lead on two occasions in the first five minutes of the second half. Then Tyson Degenhart came alive and brought the ExtraMile Arena crowd with him.
Degenhart scored 13 of his game-high 19 points in the final 14:15, starting with a steal and breakaway dunk to bring the fans to their feet at Boise State's first home game since Dec. 28.
Akot then picked off a pass and ran the break to perfection, finding Max Rice alone for a layup and leading the Falcons to call timeout.
Air Force scored on its ensuing possession, but Boise State's run was not finished. Degenhart and Akot teamed up to score the next seven points and extend the home team's lead to 12.
Akot finished with 12 points, connecting on 4-of-5 three-point attempts.
The Falcons had one more run left in them. The Falcons outscored the Broncos 12-1 to pull within two points at 58-56 with 27 seconds left. Abu Kigab made a pair of free throws to make it a two-possession game. Degenhart rebounded an Air Force miss on the other end and was fouled with two seconds to play. He converted both free throw attempts to provide the final margin.
Boise State limited Air Force to 56 points – the 10th opponent the Broncos have held to fewer than 60 points this season, matching last season's total.
Boise State heads back on the road for its next two games, starting Thursday at Utah State. Tipoff is at 7 p.m. MT