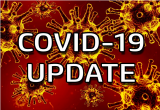 While Idaho has been doing much better in recent weeks, we are still seeing occasional ugly numbers surface from COVID-19.
Health officials say an additional 30 people have died from the coronavirus as the Gem State has surpassed 306,000 cases.
On Monday, the state's coronavirus website reported there were 447 new cases added. The 30 deaths bring the state's total to 3,921.
There are now 856,000 people who are fully vaccinated in the state.