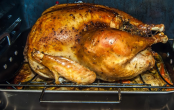 With the help of the community, food banks across Idaho are preparing for the holiday season. Here are a few things individuals interested in donating items should know.
Turkeys and hams are often donated to food banks, but that leaves a crucial part of the Thanksgiving holiday meal missing. Dan Clark with the Meridian Food Bank tells KIVI-TV, people are currently looking for sides to complete their meals.
The Meridian Food Bank listed needed holiday items on their website. These items include black olives, chicken or vegetable broth, cranberry sauce, evaporated milk, canned pumpkin, stuffing mixes, turkey or chicken gravy and yams.
One thing to keep in mind when donating canned items like fruits, veggies, or soups is whether individuals will have access to a can opener. Instead, consider donating cans with pull tabs.