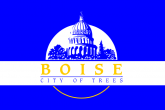 Boise's downtown Linen District could soon see a myriad of upgrades, from new landscaping and small parks to street redesigns meant to improve pedestrian and cycling access.
Capital City Development Corporation, Boise's urban renewal agency, and GGLO, a Seattle-based architecture firm, are leading the project, referred to as Linen Blocks on Grove Street.
The Idaho Press reports, the agencies recently wrapped up designs and hosted open house meetings with business owners in the area.
The project spans Grove Street from 10th Street to 16th Street.
Plans for the district include narrowing car lanes along Grove Street, slowing vehicular traffic, and adding protected bike lanes as well as improving pedestrian connectivity to the rest of downtown.