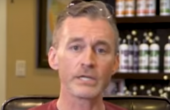 The Washington medical licensing commission has found cause to open an investigation into the conduct of Dr. Ryan Cole, according to a document obtained by the Idaho Capital Sun.
The Washington Medical Commission sent a letter Oct. 15th to an individual who filed a complaint against Cole. The letter said the commission's case management team had reviewed the complaint and authorized an investigation.
The complaint alleged that Cole's medical advice on the treatment of COVID-19 patients fell below the standard of care.
The Federation of State Medical Boards in July issued a statement warning physicians that they could be subject to discipline if they spread COVID-19 vaccine misinformation.
The Idaho Medical Association also recently filed a complaint against Cole with the Idaho Board of Medicine.