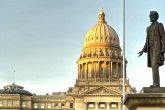 Could we soon see the Idaho Legislature get back together?
The Idaho Legislature's interim Committee on Federalism voted Monday to recommend the full Legislature take up a bill that would make it a crime for public agencies and/or officials from helping to implement President Joe Biden's new COVID-19 rules.
Last month, President Biden issued executive orders requiring that all federal employees and contractors receive COVID-19 vaccines. The president also announced that he would be directing the U.S. Department of Labor to require that employers with more than 100 workers mandate vaccinations or weekly COVID-19 testing for their employees.
The Idaho Press reports, Idaho's Republican lawmakers in recent weeks mobilized to stop the mandates. The Committee of Federalism, convened to review federal policies that may impact the sovereignty of the state, met for the third time Monday, this time to consider bill proposals that could be recommended to the full Legislature.