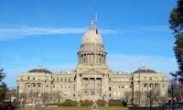 As the Idaho House convened its session Tuesday morning, House Chaplain Tom Dougherty, in his opening prayer, prayed for healing.
The House Chaplain was referring to a House staffer who remains hospitalized after testing positive for COVID-19 on March 19, the day the Legislature abruptly called an 18-day recess.
The Idaho Press reports the recess was called because there were nine new infections in a week, including six House members, two House staffers and one Senate staffer.
Earlier in the session, two senators also tested positive, as did multiple legislative staffers.
As of March 19, there had been 15 Statehouse COVID-19 cases, including the six House members, two senators, a total of five House staffers and two Senate attachés.
One senator and the one House staffer were hospitalized.
Today, many House members continue to forego masks as they convene in the House chamber.
Originally written and posted by the Idaho Press