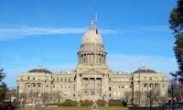 After hours of debate, two legislative working groups Thursday called for a special session of the Legislature to be convened as soon as possible, on both civil liability and education issues stemming from the coronavirus pandemic.
The Idaho Press reports the House and Senate Judiciary committees debated for more than three hours before their divided vote to recommend a special session to consider legislation to broadly provide immunity from lawsuits during all declared emergencies for businesses, government agencies, medical providers or others who make good-faith efforts to comply with laws and regulations.
Hours later, the House and Senate Education committees also voted to call for a special session, citing budget-flexibility proposals for schools now facing budget cuts, adjustments to school transportation funding and enrollment calculations, and clarifications on who has authority to close schools.
Under the Idaho Constitution, only the governor can call the Legislature into special session, and the special session has no power to legislate on any subject other than those specified in the governor's proclamation convening the special session.