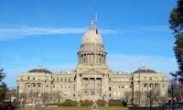 Sen. David Nelson spoke to the League of Women Voters of Moscow on Wednesday and said he expects another push by legislators to add a seventh person to the bipartisan Idaho Commission for Reapportionment. The commission is responsible for drawing district boundaries for legislative and congressional elections based on the census.
The commission usually has six members appointed by both party leaders of the state Senate and House, giving it a 50-50 split between Democrats and Republicans. Nelson said a seventh person would give one party more power when it comes to redistricting.
The Lewiston Tribune reports that during this past legislative session, Republican lawmakers proposed a constitutional amendment to add a seventh commission member that Democrats, and Nelson, believe would give the GOP the ability to redraw districts in ways that favors GOP candidates.
He expects this issue to arise again in this coming legislative session.
"Be ready during this session to kind of raise heck on these (issues)," Nelson said.
Because the change to the Idaho Commission for Reapportionment would need a constitutional amendment, it would eventually require the public to vote on it.
The Idaho Commission for Reapportionment will convene in 2021 following the results of the 2020 census.
The commission will have 60 days to draw the state's district map, and the public will be allowed to provide input, Nelson said.
LWV member Kathy Dawes said the U.S. Supreme Court has acted against gerrymandering based on racial discrimination, but ruled this year that partisan gerrymandering cannot be reviewed by federal courts.
LWV member Mary Bostick said her group will take an active role in educating people about redistricting and promoting fair representation in government.
Another way the maps could change is through combining counties. Nelson said District 5, the district that encompasses Latah and Benewah counties, may not have a large enough population by the time the next map is drawn. He said if that is the case, Clearwater County may have to join the district.