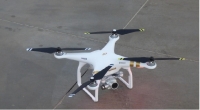 Within the next month, the Caldwell Police Department aims to have its new drone program up and running.
Caldwell Police Chief Frank Wyant says using drones will increase officer safety when searching for fugitives or suspects and during SWAT incidents. It will also help the department search for missing people and lost children, investigate crash scenes and assist other agencies.
The Idaho Press reports, the department purchased five drones for about $10,000. That purchase included iPads and replacement parts for the drones.
Officers are currently working on a drone policy, which will be complete before the department begins using them.