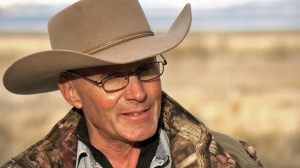 More fallout from the Maulhuer National Wildlife Refuge Takover of 2016.
Robert "LaVoy" Finicum's family filed a wrongful death lawsuit against the United States, Federal Bureau of Investigation, Bureau of Land Management, Oregon State Police and other agencies and individuals.
Finicum was shot and killed on Jan. 26th, 2016. In the lawsuit, KBOI-2-TV reports, his family argues he was "deliberately executed by a pre-planned government ambush."
The plaintiffs say he was planning to drive out of the county to meet with Grant County Sheriff Glen Palmer.
The family argues his death was unlawful under rights guaranteed by the U.S. Constitution.
They say the FBI and other agencies were committed to using excessive lethal force. They say the agencies targeted him because of his association with Cliven Bundy, his membership in the Church of Jesus Christ of Latter-day Saints, and his political views regarding land rights and federal government overreach.
They also claim the agencies conspired to keep secret and cover up information and evidence related to Finicum's death.
His family is suing for no less than $5 million in damages.