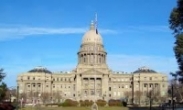 The Idaho House will hear the first of four new bills dealing with citizens initiatives, that were introduced the day after Governor Little vetoed Senate Bill 11-59.
House Bill 3-03 would require citizens' initiatives to follow the same guidelines as bills introduced in the legislature.
It would require initiatives to be limited to only one subject, include a fiscal impact statement, and propose a way to fund the legislation. The House State Affairs Committee voted to let the bill bypass the committee hearing process, and go directly to the House floor.
The other three draft bills, which would reduce the amount of time to gather signatures for an initiative, increase the number of signatures needed to qualify for the ballot, and increase the number of legislative districts, will be brought back for a hearing.
All four bills were part of S-B 11-59, which Governor Little vetoed.