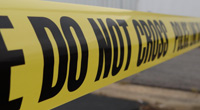 A suspect is pronounced dead after a high speed chase by Idaho and Oregon State Police, which ended with shots fired.
The pursuit started in Nampa Thursday afternoon and ended in Ontario.
Victor Morales Zavala was discovered to be driving a stolen pickup truck, and was pursued west on Interstate 84. Ontario Police successfully laid down spikes as Zavala entered into Oregon. All four tires were blown from the spikes near Ontario.
Officers continued their pursuit and the vehicle came to a stop on Idaho Avenue.
CBS 2 News reports, Zavala had a firearm, and shots were fired with the suspect going down just before 5pm.
Life saving measures were attempted, but Zavala was pronounced dead.
Officers shut down traffic for several hours. Officers will be interviewed, and any dash camera footage will be reviewed as soon as possible.