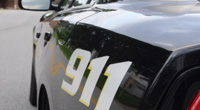 Boise Police have charged a Boise man following an investigation into shots fired on N. Lakeharbor Ln.
Jason Lettelleir was booked into the Ada County Jail on one count of felony aggravated assault.
Boise Police began investigating the shots fired call around 8:30pm Monday night after Lettelleir allegedly fired a weapon into the air.
Nobody was injured.
Preliminary information shows Lettelleir was in a nearby apartment and went outside to investigate a group of individuals who he believed were acting suspiciously. When he approached the group, a fight broke out and he displayed his weapon and pointed it at least one individual before firing it into the air.