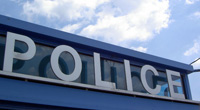 Boise (670 KBOI News) – The Republican nominee for the Idaho state Senate in District 17 is charged with misdemeanor obstruction after he allegedly tried to stop drug detectives from going into his home to serve a search warrant.
Meridian Deputy Police Chief Tracy Basterrechea says an investigation that started in Meridian led them to Boise, so the notified the BPD and went to serve the warrant.
"The way a lot of our investigations work, especially drug investigations, obviously they don't understand jurisdictional lines," said Basterrechea.  "We had began an investigation in Meridian, and that carried us over to this location in Boise."
Basterrechea says David DeHaas told officers they couldn't go into his home on West Randolph Drive. He reportedly was holding a knife at the time.
Officers served the warrant and found drugs, money, paraphernalia, and four stolen guns in the living area of DeHaas' 20-year old son, Michael. Both DeHaases were arrested, along with two other men.