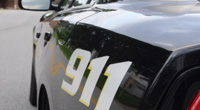 A man shot and injured a Meridian police officer Sunday afternoon, and the wounded officer returned fire and killed the man.
The shooting happened about 1:30 p.m. Sunday in the area of Maple Grove and Overland roads when a Meridian police officer tried to arrest one man on a warrant.
The man was in a black Dodge Durango with two other people. The officer pulled the car over in a cul-de-sac, and the man got out of the car and shot the officer twice in the leg.
The officer fired back and killed the man. Police later recovered the gun the man used, but as of this morning, the shooter has not been identified.
The Idaho Press reports, Police are still looking for one person. A female suspect who was in car at the time of the shooting has still has not been found. However, a man who was also in the vehicle turned himself in last night.
The officer was taken to Saint Alphonsus Regional Medical Center, and was expected to undergo surgery.
The Ada County Critical Incident Task Force is investigating the shooting.