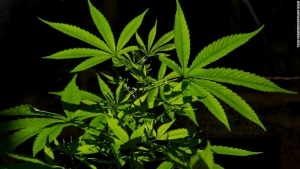 Marijuana in Idaho – Part 5 – Will it ever be legal in Idaho?
This week, the 670 KBOI News Department is taking an in depth look at Marijuana and how it applies to Idaho. Today we look to the future. Will Idaho ever legalize Marijuana?
Marijuana in Idaho – Part 5 – Will it ever be legal in Idaho?
(music intro)
To begin we reefer you back to our Monday segment to remind you that Idaho is one of just a few states in the west that does not allow marijuana.  As told by Monty Stiles, who's a former US Attorney:
"State law prohibits the use, possession, distribution of marijuana in any form.  It's an illegal substance."
And that is the law in Idaho.  A change would require many things, including a change of heart for many who have been told for decades that pots just bad for you.
(music) "McGruff here… if someone asks you to try drugs think of me and say what I'd say."  "wow – thanks McGruff! – Take a bite out of crime!"
And some will hold on to that belief even if others are trying to tell you that marijuana isn't so bad for you.  Have you ever seen 'Dazed and Confused' ?
"George Washington, man he grew fields of that stuff man that's what I'm talking about.  Fields.  He was onto something, man, he knew that it would be a good cash crop for the Southern States man.  So he grew fields of it man."
Rob Stevenson, the executive director of Drug Free Idaho says he's not sold on marijuana being good for anybody, especially kids!
"Yeah, the misconception is that it's not harmful, that's the biggest misconception that it's this miracle drug that cures basically a list from A to Z – you name it, they say it can cure it.  And it's just, it's not true.  And it actually causes a lot of harm.  There's study after study after study that showing how it affects the youth brain, it actually hurts the youth brain and it stunts it growth.  And that's something that concerns us we don't want our youth to be effected by this stuff."
On the other hand some fairly powerful people have been rallying for its' legalization for some time.  Including at least one major candidate for president in the last election.
"We have got to have the guts to rethink the so-called war on drugs.  Too many lives, too many lives have been destroyed because people possess marijuana.  Millions over a thirty year period.  And that is why I believe we should take marijuana out of the Federal Control Substance Act."
Now that was Bernie Sanders, in case you couldn't place the voice.  But back to the question, will marijuana ever be legal in Idaho?  Till a crystal ball is able to give us a better answer, the best answer we can give you is this:  considering all the evidence, the trajectory of other states, and words of local leaders both Republican and Democrat, some elements of legalized CBD and or marijuana will almost certainly be allowed.  But again, that's just based on what many other states have already done and a growing call for less government control of what many people consider a form of medicine.  Rick Worthington 670KBOI.