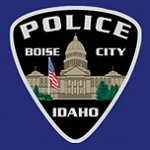 Boise Police, working with the FBI Metro Taskforce, arrested a wanted fugitive in multiple states shortly after 10 p.m. Monday night.
Daniel Courson had a federal warrant out for his arrest for a bank robbery from Colorado and warrants out of California for a parole violation and burglary.
KBOI-2-TV reports, Authorities received information that Courson was near the area of N. 14th Street and Main Street in downtown Boise.
The Boise Police Special Operation Unit was called in to the location, where they found Courson driving a vehicle stolen out of Utah.
Courson is being held at the Ada County Jail.